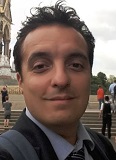 Prof. Pierluigi Siano
IEEE Senior Member
Member of IES Administrative Committee
University of Salerno, ltaly
Brief biography:
He received the award as 2019 Highly cited Researcher by ISI Web of Science Group.
According to the study conducted by some Stanford University researchers, it has been included in the ranking of 100 thousand international scientists, belonging to different disciplinary fields and with greater scientific impact. The investigation was conducted by some Stanford University researchers who, starting from the SCOPUS database containing the list of scholars of the world classified by scientific production, developed a composite indicator that takes into account all possible bibliometric parameters (h index, number publications, citations, journal relevance, sector relevance, etc.), in order to generate a wider ranking, focused on the scientific relevance of scientists, in relation to the activity of the last 23 years.
He is a Professor and Scientific Director of the Smart Grids and Smart Cities Laboratory with the Department of Management & Innovation Systems, University of Salerno.
His research activities are centered on demand response, on the integration of distributed energy resources in smart grids and on planning and management of power systems.
He has co-authored more than 450 papers including more than 200 international journal papers that received more than 7600 citations with an H-index equal to 44.
He has been the Chair of the IES TC on Smart Grids.

He is Editor for the Power & Energy Society Section of IEEE Access, IEEE TRANSACTIONS ON INDUSTRIAL INFORMATICS, IEEE TRANSACTIONS ON INDUSTRIAL ELECTRONICS, Open Journal of the IEEE IES and of IET Renewable Power Generation.
Editor of the journal Smart Cities, MDPI Publisher since 2018
Editor of Intelligent Industrial Systems, Springer 2014-2017